Events Description
Join us for a special Halloween Edition of the Rust Magic Mural Tour this Saturday, October 31. Dress up and dress for the weather. Costumes are encouraged! Prize for best dressed + special halloween takeaways.
A new art movement is quietly emerging on the streets and alleyways of Old Strathcona. Opening up a new interactive experience for Edmontonians to enjoy while exploring the city. Adding to the unique fabric of the community, Rust Magic has produced over a dozen street art murals by local and international artists in this area.
Engaging the city streets – It's about introducing colours that were not there and supplying contemporary backdrops adding to our visual landscape. However, the murals are more than 'instagrammable walls' there are stories that are unique to each project. Stories of hard work , process and victory.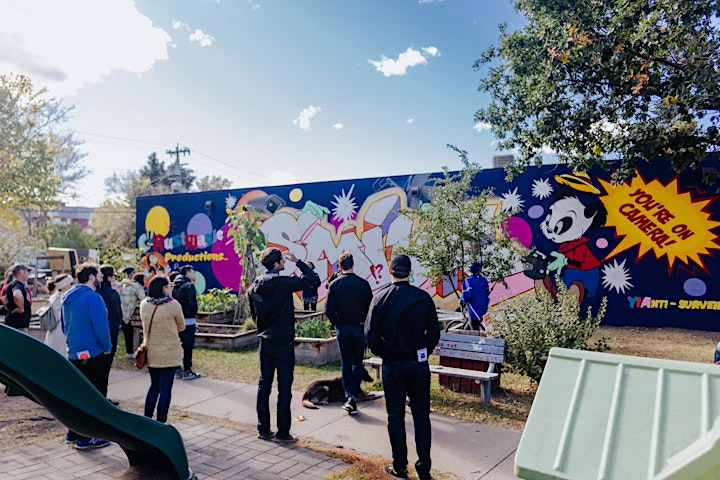 Here to highlight some of the most iconic street art in Edmonton. Learn more about the local and global street art scene as we talk about its history and future while sharing artists visions and all the behind the scenes stories of festival magic and disaster.
Join Rust Magic Founders and artists Annaliza Toledo and Trevor Peters as they share the inside scoops on their approach to curation and their experience working on each project. You will walk away with new knowledge of the local and international street art scenes and gain a new appreciation knowing the background story of each mural and artist.
The Rust Magic Street Mural Tour is the most authentic experience pertaining to street art and graffiti culture in Edmonton. This tour will undoubtedly make you more connected to the murals with insights from inside.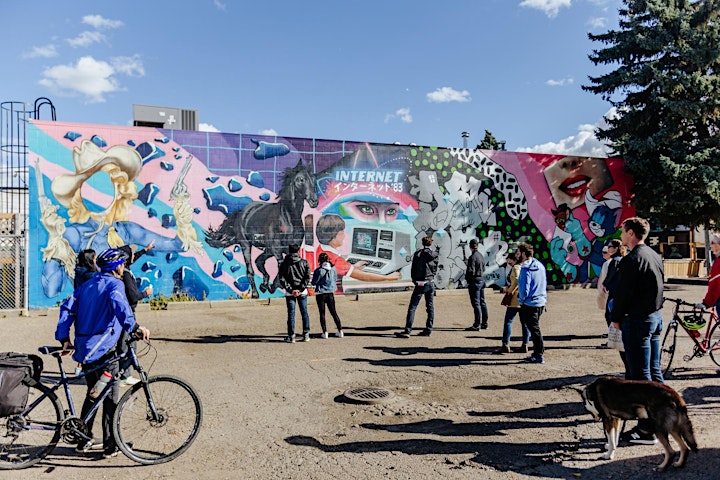 YOUR TICKET INCLUDES:
A one of kind, authentic and intimate street mural tour experience brought to you straight from the source
Rust Magic Official Mural Map
Rust Magic Silver Pin
Hear stories about the making of over 15 murals by local and international artists such as Mr. Cenz, Okuda San Miguel, Wane One, Alex Labarda, Dabs One, Nelson 'Dedos' Garcia, Rust Magic Productions, Mega McGrath and more
Oodle Noodle meal voucher redeemable at any location in Edmonton
Countless photo opportunities
All proceeds go to the Rust Magic International Street Mural Festival to help continue the beautification of Edmonton through public art
RUST MAGIC STREET MURAL TOUR INFO:
Begins at the Cenz One mural located at the South facing alleyway of the Monolith located at 9919 – 78 Ave NW
Ends at the Kwest mural located at 10823 – 82 Avenue NW
Tour will begin at 2:00 pm sharp and last anywhere from 2-2.5 hrs
There will be a washroom break in the middle of the tour
Limited capacity of 20 people + 5 children (12 and under)
Kids 12 and under are FREE (must register)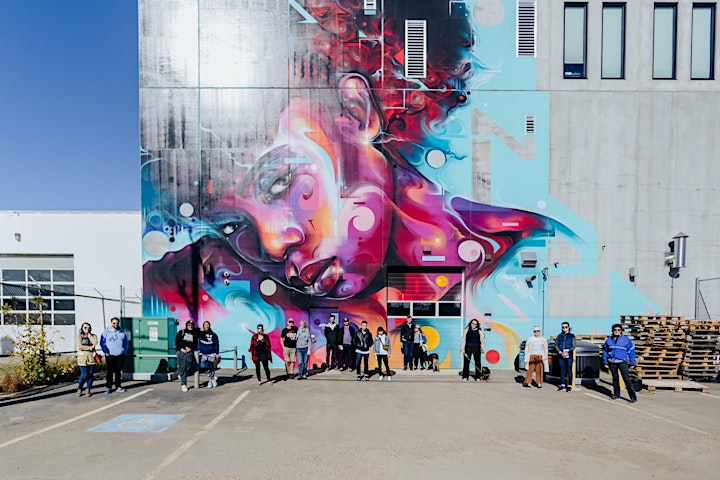 ADDITIONAL INFORMATION: This tour is wheelchair accessible. All children under 12 are welcome. Each child must be accompanied by one adult. Please consider the distance and length of tour. Please dress appropriately for the weather. Consider bringing water/ drink in a reusable bottle. Paid parking is available nearby. We recommend parking at a midpoint such a around 104 St and 82 Ave.
By purchasing a ticket and attending a Rust Magic Street Mural Tour, you are assigning permission to Rust Magic International to use and publish any photos or video recordings taken of you by Rust Magic International to be used in print publications, online publications, presentations, social media and commercial purposes.
REFUND POLICY: Rust Magic International requires 48 hours notice before the date of the event in order to refund a ticket. No refunds are provided after that point. No refunds are provided on the day of the event and all subsequent days.
​Private tours are also available to downtown and other neighbourhoods including 124 St Area and Downtown. Please e-mail for costs and availability.
Please e-mail contact@rustmagic.ca with any questions.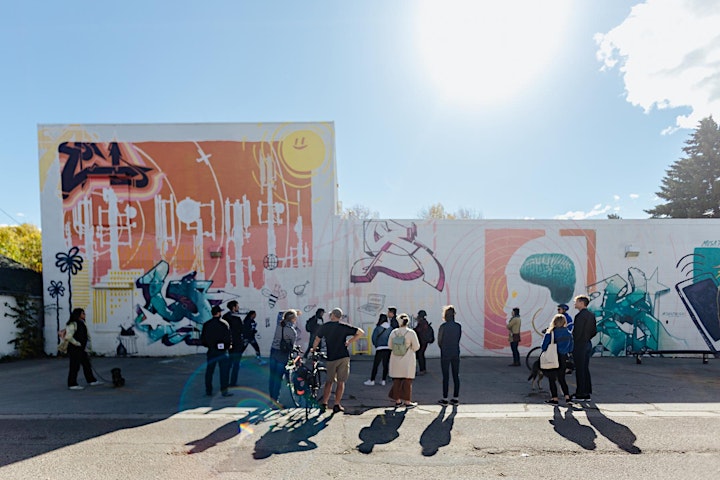 Tickets :$0.00 – $45.59
12+: $45.59
How to get tickets?
Eventbrite
Date & Time:
Saturday, October 31, 2020, 2:00 PM to 5:00 PM
Venue:
OLD STRATHCONA & AREA –
9919 78 Avenue Northwest, Edmonton, AB T6E 1N6