Events Description
Join us for four introductory Shaolin Qigong Workshops! In the beginning, Qigong (pronounced Chee-Goong) is very much about understanding your own energy and learning how to cultivate it through techniques such as breathing, energy awareness exercises, stretching, and movement. Shaolin Qigong is a style of Qigong that comes from a 1,500-year-old culture in Northern China where it was primarily practiced for health and developing martial prowess even at an older age. Watch a sample of the movement exercise called Shaolin Ba Duan Jin Qigong on Youtube here.
Who is it for?
All the Shaolin Qigong exercises are designed to use as little muscle as possible, giving you a very relaxing experience. These workshops are recommended for ages 18+. No prior experience with Qigong is necessary and you can participate standing or seated.
Tickets :Free
REGISTRATION OPENS JANUARY 6 @ 12:00PM
Register in advance or come drop-in! We will have 20 drop-in spots available at each (first-come, first-serve). Contact us by email at education@tolive.com if you have any questions!
How to get tickets?
Eventbrite
Date & Time:
Monday, January 13, 2020, 12:00 PM to Monday, February 03, 2020, 1:00 PM
12:00PM – 1:00PM
Monday January 13, 20 & 27, 2020
Monday February 3, 2020
Venue:
Meridian Hall (formerly Sony Centre) – Rehearsal Hall
1 Front Street East, Toronto, ON M5E 1B2
The entrance is located on Yonge Street (halfway between Front St E and The Esplanade on the west side of the building).
Accessibility
The Yonge Street Entrance has no steps and a button to open the doors. To get from the Yonge Street Entrance to the Rehearsal Hall, there are 29 steps or 2 elevators. Washrooms are located at the Rehearsal Hall level.
Yonge Street Entrance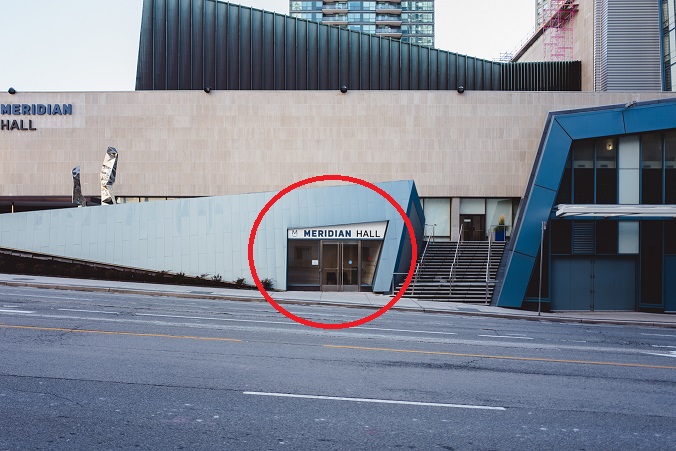 You may like:
Live Music & Concerts in Toronto
Free Fun in January in Toronto