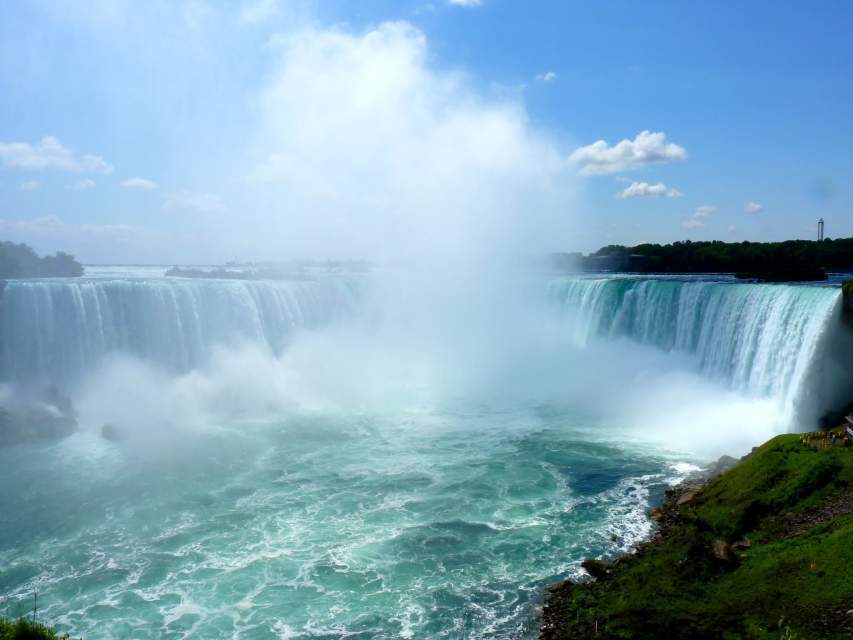 A Concise Guide to Planning a Trip to Niagara Falls,Canada – A trip guide for a first time visitor.
NIAGARA FALLS! Stupendous, beautiful,
Enduring monument of the Power Divine!
Thy white-foam pillars ever moving stand,
And ever standing move harmoniously
To the rough music of the dashing spray,
And roaring tumult of thy boiling base.
– From "Niagara Falls: A Poem in Three Cantos' by James K. Liston, 1843.
Contents:
1. What is Niagara Falls?
2. Where is Niagara Falls located?
3. How to get to Niagara Falls, Canada?
4. When is the best time to visit Niagara Falls?
5. Where to stay in Niagara Falls?
You may like:
Trip to Toronto: Optional 1 to 4 Day Itinerary
Niagara Falls to Quebec City Road Trip
15 Day Alberta Road Trip Itinerary
What is Niagara Falls?
Niagara Falls is the collective name of three sets of waterfalls, namely Horseshoe Falls, Bridal Veil Falls & American Falls. Cities in the Canadian province of Ontario and American state of New York, where the falls are located also share the name Niagara Falls.
Niagara Falls was formed due to the melting of the glaciers at the end of the last ice age. When the glaciers melted, the Lake Erie (one of the great Lakes of North America) emptied into Lake Ontario through Niagara River causing the gigantic water falls. Goat Island (in Niagara Falls State Park, New York) situated upstream in the Niagara River splits the river causing the separation of falls into two – Horseshoe Falls and American + Bridal Veil Falls.
Further downstream, Luna Island splits the Niagara River into American Falls and Bridal Veil Falls.
Where is Niagara Falls located?
Niagara Falls is located along the international border between USA and Canada. While the biggest of the three cataracts, the Horseshoe falls is mostly in the city of Niagara Falls, Ontario, Canada (situated on western bank of the Niagara River). American Falls and Bridal Veil Falls are located entirely in Niagara Falls, New York (situated on the eastern bank of Niagara River). Best panoramic views of the Falls can be enjoyed from the Canadian side.
Approximate distance to Niagara Falls, Canada from major cities.
1. Buffalo ~ 25miles
2. Chicago ~ 525 miles.
3. Montreal ~ 670 km.
4. New York ~ 420 miles.
5. Ottawa ~ 580 km.
6. Toronto ~ 130 km
How to get to Niagara Falls, Canada?
I. Travel Documents:
If you are not a Canadian resident – See visa requirements here.
Citizens of visa exempt countries require Electronic Travel Authorization (eTA), if they are flying in to Canada.
United States citizens & Green Card Holders do not require a visa. For travel document details, see here
II. Driving to Niagara Falls, Canada
From Toronto, ON
It takes approximately 1.5 hours (much more with Traffic) to reach Niagara Falls from Toronto area. Highway QEW (Queen Elizabeth Way) is the main route that connects the two cities. Plan your trip here.
From Buffalo, NY
An approximate 30 minute drive from Buffalo will get you to the majestic Horseshoe falls. Rainbow Bridge connects Niagara State Park and Niagara Falls. See Border crossing wait times here.
From other parts of US – depending on where you are coming from, you can choose from one of the three bridges to cross Niagara River to Canada. Approximate Fees: $3.75 US
$4.75 CAD
Rainbow Bridge – nearest to the Falls
Peace Bridge: Niagara Falls, U.S. to Fort Erie, Ontario
Queenston- Lewiston Bridge
Whirlpool Rapids – For Nexus Holders
Also, note that Canada follows metric system and speed limits are in kilometers.
III. By Air
Nearest International Airports:
Canadian Side:
a. Niagara Falls from Billy Bishop Toronto City Airport (YTZ) located on Toronto Islands. FlyGTA offers flights from Billy Bishop Airport (YTZ), Downtown Toronto to/from Niagara District Airport (YCM). Niagara on the Lake. This is the quickest way to reach Niagara Falls from Toronto – 12 minutes. Fare $99.00
You can easily get to Niagara Falls from YTZ using a bus/car/train, once you get to downtown Toronto, (which is hassle free).
b. Lester B Pearson International Airport (YYZ), Toronto/Mississauga is located approximately 130 km from the Falls. From the airport you can use Via Rail/Go Train, Airport shuttles and Greyhound or Megabus to get to Toronto and then use connecting services to get to Niagara Falls.
Niagara Falls From the Pearson Airport – Public Transit: Union Pearson Express will take you to Union station, Down town Toronto in half an hour. The service will be available every 15 minutes. Fare: $12 for adults and no charge for kids under 12 years of age. From downtown Toronto, you can take train/bus to Niagara Falls. For other public transit bus (TTC) options to Toronto from the airport, see here.
For airport shuttles to Niagara Falls/ to Toronto, see here.
From Union Station, use seasonal Go Train (see below) or Via Rail service.
Private tour operators and shuttles are available to directly get to Niagara Falls. See below under the paragraph 'Taxies & Tour Operators'.
American side:
a. Buffalo Niagara International Airport (BUF) is located approximately 25 miles / 40 km from the Falls. There are multiple options (rental cars, taxis and buses) to get to Niagara Falls, Canada from Buffalo airport. See here for upto date information and fares.
b. The Niagara International Airport is located off of Route 62 (Niagara Falls Blvd.), which connects 405 in Canada – See all the information for ground transportation from the airport to Niagara Falls, Canada here.
Flying to American Airports are generally cheaper than flying to/from Canadian airports.
IV. By Train
Train Station at Niagara Falls VIA station: 4267 Bridge Street, Niagara Falls. The station is located near Whirlpool Bridge, ~4km from the Falls.
Maple Leaf: Via/Amtrak train service from New York to Toronto.
Via Rail /Amtrak runs daily service from Toronto (08:20 AM) to New York with a stop at Niagara Falls Via Station (10:16 AM). Cost/Fare: ~ $160 USD round trip ( Toronto to NY).
Evening service from Niagara Falls: 5:45 PM to Union Station at 07:42 PM
Seasonal GO Train From Toronto- Schedule
Fridays, Saturdays, Sundays and holidays from June 21 to September 2, and for Thanksgiving weekend (October 12-14), 2019. Trains will be departing from Union Station and stopping at Exhibition, Port Credit, Oakville, Burlington, St. Catharines and Niagara Falls.
Trains will operate three times each day between the Niagara Falls VIA station on Bridge Street to Union Station in Toronto, with an additional service on Fridays. Duration: ~ 2 hours. There is an inclusive Niagara Parks Travel Package that start at $35 per person and $65 for a group that covers your round-trip GO Train fare plus a connecting WEGO bus pass that you can use for the weekend.
Weekday Train: There is also a weekday train (intended mainly for people working in Toronto) that start from Niagara Falls early in the morning (Niagara Falls at 5:19 a.m.) and depart from Toronto Union Station in the evening (5:15 p.m. westbound trip from Union ).
V. By Bus
Bus Station: Niagara Falls Inter City Bus Terminal, 4555 Erie Avenue
1. Public Transit:
Go Train connects Toronto and Burlington GO Station everyday, round the year with ~ 12 trips during weekdays & 6 during weekends. From Burlington GO Station, you can use GO transit bus service to Via Station (4267 Bridge Street, Niagara Falls) & Niagara Falls (Hwy 420 & Stanley, Niagara Falls). This service is available year round. Travel Time: ~ 2hours.
You can also get to Niagara Falls from Niagara-on-the-Lake using GO Transit. An express GO Bus shuttle to/from downtown Niagara-on-the-Lake to Toronto is available during the summer season. Shuttles will connect with GO Trains in St Catharines. Niagara-on-the-Lake is connected to Niagara Falls by Niagara on the Lake Shuttle from Early May to Late October and by Niagara Region Transit.
Plan your trip to Niagara Falls here from Greater Toronto Area here using GO transit (bus / train).
Use Green line WeGo Bus to travel from Niagara Bus Terminal to Table Rock/Horseshoe Falls.
Greyhound – Plan Your Trip
a. Bus services between Buffalo area & International Airport and Canadian side of Niagara Falls (Niagara Falls Bus Terminal).
b. Bus services between Niagara Falls Bus Terminal & Downtown Toronto. Fare: ~$20 & up
Mega Bus – Plan Your Trip
a. Bus services between Buffalo International Airport and Canadian side of Niagara Falls.
b. Bus services between Niagara Falls Bus Terminal /Niagara Falls View Casino & Downtown Toronto(610 Bay Street). Fare: ~$20.00 & up
2. Taxies & Tour Operators
If you are visiting Toronto and would like to visit Niagara Falls as a day trip from Toronto, there are quite a few tour operators who offer guided tours for $79 & up.
Taxies between Airports and Niagara Falls, Canada
Fare $90 & up.
c. Taxi Niagara
VI. Walking from American Side of Niagara Falls – Crossing Rainbow Bridge
If you are visiting Niagara Falls on the American side, walk across the Rainbow Bridge to reach Canadian side for a much better view of the Falls. Before crossing, make sure that you have all the travel documents (passport/visa/other relevant papers) to cross the border and get back. See paragraph I Travel Documents. From Canadian side, walk the promenade following the river till Horseshoe Falls (~2kms) enjoying exhilarating scenery of presented by the Falls.
If you are on Canadian side, and want to cross Rainbow Bridge – You should have your passport and US visa(if applicable) if you want to cross to the American side. If you are a citizen of Visa Waiver country – See I94 W; ESTA & Land crossing from Canada.
If you only want to walk on the Rainbow bridge to take in the views, you should have you Canadian Travel documents to come back to Canada.
How to get around Niagara Falls?
Getting Around Niagara Falls Attractions.
1. Transit
Public Transit in and around Niagara Falls attractions: WEGO bus system connects accommodations and tourism attractions throughout the city of Niagara Falls and Niagara Parks. Table Rock Visitor Centre located directly in front of Horseshoe Falls precipice is the main transfer hub for WEGO. Fare (24 hours): Adults(13+): $8.00 and Child(6-12): $5.00. Free for children under 5.
Falls viewpoints or hotels can easily reached from the bus/train terminals (~4km to Table Rock welcome centre) by taxi or by using WEGO purple line. WEGO Purple line bus runs only on select days during low season.
2. Parking
If you are driving to Niagara Falls, parking is available at most tourist attractions. Parking is free at few locations along Niagara Parkway. Parking at your hotel in the Niagara Falls area is mostly free. It is better to park at your hotel and then use WEGO to get around, as WEGO offers excellent connectivity and parking lots can get quite crowded during peak season.
You can also buy all access (in/out throughout the day) parking pass from paid parking lots or pay station in Niagara Parks for $26.55 + HST. If you are on a day trip to Niagara Falls, it is better to park at the parking lot across the Table Rock Welcome Centre, and use WEGO to get around. Table Rock Welcome Centre is home to gift shops, restaurants, Journey behind the Falls and Niagara's Fury.
3. Accessibility
Niagara Falls is completely accessible. Niagara river promenade running parallel to the Falls is paved, as is tourist walkways. All attractions are accessible and service animals are welcomed everywhere including the Butterfly conservatory.
Pets on leash are allowed on parks and gardens, but NOT inside attraction buildings.
4. Lay of the Land
a. Niagara Parkway
Niagara Parkway stretches alongside the Niagara River from the town of Fort Erie to Niagara-on-the-Lake. All the 'Nature' attractions and Niagara Falls are located along this parkway. The promenade at the brink of the falls from Table Rock Welcome Centre to Hornblower Niagara Cruises Plaza offers stunning views of all the three Falls. Niagara Botanical Park (Butterfly Conservatory), Niagara Glen, Queen Victoria Park, Floral Showhouse, Floral Clock lie along the parkway. Public Transit: WEGO Green Line.
b. Clifton Hill
This is the touristy area of Niagara Falls with glitzy arcades, themed attractions, gift shops, hotels and restaurants. Clifton Hill intersects Victoria Avenue and Niagara Parkway (Near Hornblower Niagara Cruises Plaza). The tourist area also includes Victoria Avenue attractions. Public Transit: WEGO Blue Line.
c. Falls View Area:
Travelling west on Murray Street from Niagara Parkway gets you to Falls View Boulevard where most of the upscale hotels of Niagara Falls are located. Falls View indoor waterpark, Niagara Falls View casino, Niagara Skywheel and Skylon tower can be found here. Niagara Incline Railway gets you down to Table Rock Welcome Centre in under a minute from here. Public Transit: WEGO Blue Line.
d. Lundy's Lane:
Historical Lundy's lane famous for the Battle of Lundy's Lane of 1814 is home to historical museums, hotels and restaurants (Oh! Canada Eh Dinner Theatre), entertainment, shopping (Canada One Brand Name Outlets) and Waves Indoor Waterpark. Lundy's Lane has three full service campgrounds. Victoria Ave becomes Lundy's lane as you travel past the Main street intersection. Public Transit: WEGO Red Line.
What is the best time to Visit Niagara Falls?
Niagara Falls, Canada is an year round destination. All attractions except Hornblower Niagara cruises are open year round. Late Spring to Early Fall will have Niagara Falls teeming with people from around world. Nature will be at its best during this period with Niagara Parks' gardens in full bloom. The amount of water that flows through the Niagara River peaks in late spring/early summer resulting in powerful waterfall with highest flow rate of any waterfall in the world.
Any time is a good time to visit Niagara Falls. Niagara Falls is at its busiest in the summer months of July and August. If you are able to pick a particular season, choose from Mid May to Mid June or Early September to Early October so that you can enjoy all the attractions with less crowds around.
Winter transforms Niagara Falls into a magical wonderland with natural ice sculptures framing the Falls. Winter Festival of Lights and special New year's eve concerts with famous artists are highlights of the winter season. Visiting Niagara Falls in winter is totally a different experience than a summer visit.
How much time is required to see Niagara?
How much time to allocate to see Canadian Side of the Falls, may well depend on your budget. If you are interested in only seeing the Falls, taking the cruise, and few attractions (like White Water Walk) along Niagara Parkway, one day is sufficient.
Second Day:
Add one more day and take in the history of the area (visit historic sites in Niagara area), enjoy hiking in Niagara's Glen, go for Whirlpool Jet Tour on Niagara river, go on a winery tour of the world famous Niagara wineries located in Niagara-on-the-lake and explore historic downtown Niagara-on-the-Lake.
There are many "touristy attractions" like zip lining across the Falls, Niagara Falls Speedway etc that you can consider visiting.
If you have children with you: Spend time at Clifton Hill area attractions and/or visit Marine Land. Canadian side of Niagara Falls also has 3 water parks (Great Wolf Lodge water park is accessible to hotel guests only).
If you plan to stay for more time, there are no dearth of things to do in the Niagara region. Visit Niagara Safari, venture further ahead to St Catharines to see Welland Canal, or explore Bruce Trail.
Where to Stay in Niagara Falls?
Staying overnight? There are hotels and Bed and Breakfasts aplenty to suit every budget.
If you have a relatively good budget to spend for your trip, consider staying near the Falls.
Hotels facing the Falls($$$$)
Please note that only select rooms face the Falls and the view depends on the location of your room.
Hotels located in Clifton Hills area provide easy access to Niagara Falls promenade. These are much cheaper than the "Falls View" hotels and provide excellent value for money.
Bed & Breakfasts – See here


Campgrounds in Niagara Falls
Campark Resorts – 9387 Lundy's Lane Niagara Falls: Basic campsites, full service sites and cabins.
KOA Campgrounds – 8625 Lundy's Lane, Niagara Falls: Basic campsites, full service sites and cabins.
King Waldorf's Tent and Trailer Park – 9015 Stanley Ave, Niagara Falls: Basic campsites, full service sites.
Yogi Bear's Jellystone Park, 8676 Oakwood Drive, Niagara Falls: Basic campsites, full service sites and cabins.
Travelling with Children
If you are traveling with young children, you might want consider staying in hotels with access to indoor water parks or near themed attractions in Clifton Hills Area.
Sheraton on the Falls Hotel, Crowne Plaza Niagara Falls-Fallsview Hotel and Skyline Hotel Niagara Falls have direct connection to Falls View Indoor waterpark. The Hampton Inn by Hilton at the Falls is also located near the waterpark.
Americana Resort located ~ 5 km from the Falls is home to Waves Indoor Waterpark.
Great Wolf Lodge, Niagara Falls is another fun place to stay with family. Free admission to the on-site indoor and outdoor water parks($$$$$).
You may like – Christmas in Niagara Falls Region: Parades, Concerts, Holiday Theatre & Events