Overview
About Rosetta McClain Gardens, Scarborough, Canada
Once a 40 acre Rumph farm, overlooking Scarborough Bluffs, the Rosetta McClain Garden was the property of Rosetta, daughter of Thomas McDonald West, owner and operator of J. & J. Taylor Limited, Toronto Safe Works. Many of the historic landscape improvements enjoyed today were initially undertaken by Rosetta's husband, Robert Watson McClain, and her brother Joseph McDonald.
After Rosetta McClain's death in 1940, her husband offered their property to the city of Toronto as parkland in her memory in 1959. Combining land from J.M. and H.T. West properties, and W.N. West holdings, a 23 acre park was created. The Park is maintained by City of Toronto. Click on the historic plaque photo for detailed history.
What to do at Rosetta McClain Gardens?
Attractions & Things to do
Amble along the landscaped gardens, enjoying brilliantly coloured flowers and manicured gardens.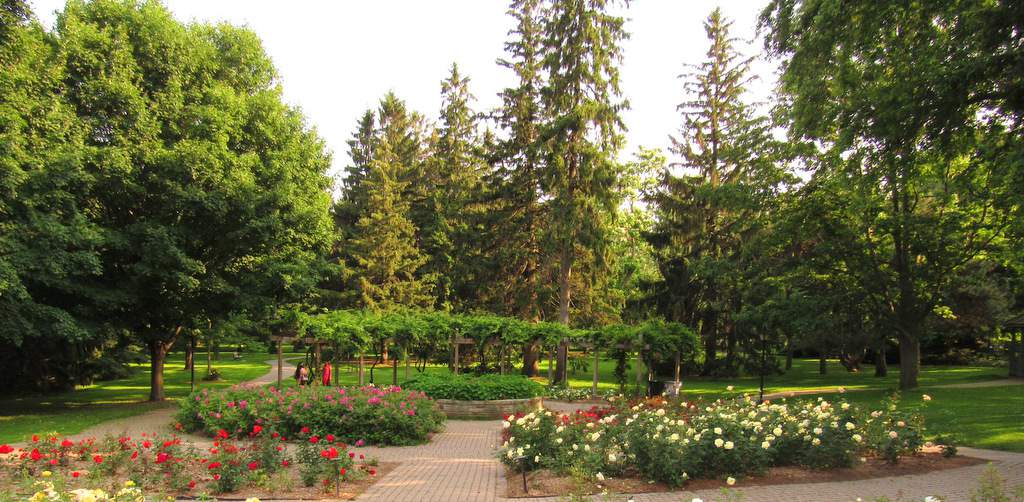 Rest a while at the many benches provided along the trails overlooking Lake Ontario and delight in the spectacular scenery.
Savour the sweet smell of roses and appreciate the many landscape features like the rock fountain, raised garden beds surrounded by a pergola. Children will love seeing birds, butterflies and other critters that inhabit the park.

Take beautiful pictures in the charming garden filled with many uniquely shaped trees and historic landscape features. Watch migrating birds during late August till end of November; join Raptor Watch Club and meet fellow birders.
When to visit Rosetta McClain Gardens?
Rosetta McClain Gardens Hours
Open year round, trails not maintained in winter.
Daylight hours recommended.
Time required to visit:
One hour or more depending on interest. The plants change every year, so come back every season and find out what's new at the garden!

How much to visit Rosetta McClain Gardens?
Free Admission.
How to get to Rosetta McClain Gardens?
Rosetta McClain Gardens Directions and location:
Rosetta McClain Gardens is situated on the top of the Scarborough Bluffs. It can be accessed by car from Kingston Road, and from Glen Everest Road at 5 Glen Everest Road.
Free parking available on-site. The parking may be limited on weekends as the parking lot is small.
Pedestrian access is also available through Lakehurst Crescent.
Accessible by public transport.TTC stop is right across the park.
What about Amenities & Accessibility at Rosetta McClain Gardens?
Trails wheelchair accessible and Park map in Braille.
Washrooms on site.
Dogs, Picnic, Bicycle Riding, Rollerblading, Skateboarding, playing ball not allowed.
Wedding Photography requires permit.
More To Do