Gorgeous gardens span across the Greater Toronto Area, and range from flowers that come in all colours of the spectrum to shrubs and bushes that make up a visually beautiful green backdrop for a stroll. Some are accessible, some are kid-friendly, and some have sweeping views of Lake Ontario, but all of them showcase the beauty of nature.
Here are some of the best gardens you should visit in and around Toronto:
**Indoor Gardens (conservatories) and select sections of the public gardens may not be open during COVID-19 restrictions. Verify before travelling.**
1. City of Toronto
Allan Gardens
Allan Gardens is a conservatory that carries plenty of colourful and exotic plants and flowers from around the world. The conservatory dates back to the mid-1800s and has since provided the city of Toronto with a place to enjoy the wonders of nature. You can enjoy seasonal shows in Spring, Easter, Fall and Christmas.
Cost: Free
Hours: Open Year Round
Address: 19 Horticultural Ave, Toronto (Directions)
Toronto Music Garden
Right by the Harborfront of Toronto, the Toronto Music Garden presents the public with a magical and beautiful green space that hosts classical performances in the summer. There is a whimsical spirit about the garden that is expressed in the landscape architecture.
Cost: Free
Hours: Open Year Round
Address: 479 Queens Quay W, Toronto (Directions)
Rosetta McClain Gardens
This accessible garden park at the Scarborough Bluffs is ideal for those who want to view flowers, birds, and butterflies in a spectacular setting. You'll find views of Lake Ontario, raised planters, a rock fountain, and braille signage.
Cost: Free
Hours: 24 Hours
Address: 5 Glen Everest Rd, Scarborough (Directions)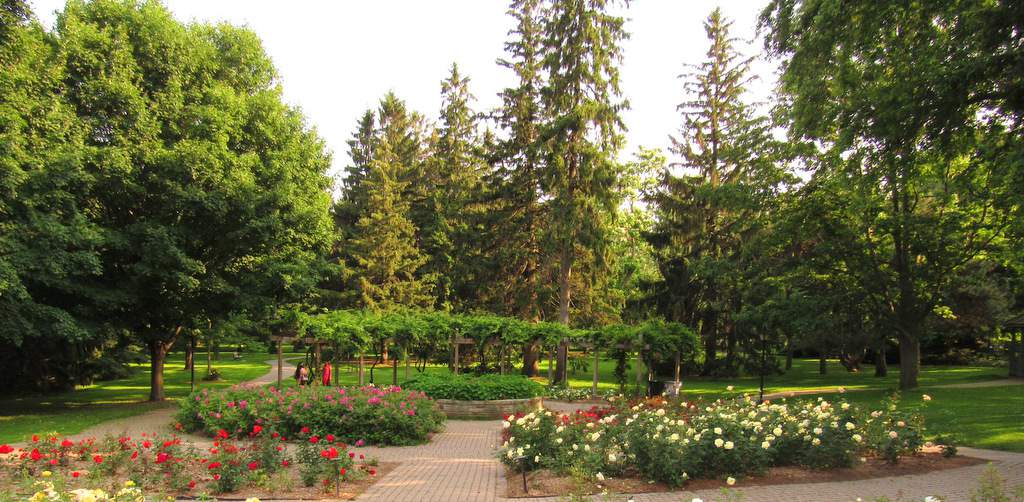 Toronto Botanical Garden & Edward Gardens
Known as "the little garden with big ideas", the Toronto Botanical Garden is a vibrant and dynamic site that has 17 themed gardens that span 4 acres.
You can also join for various teaching programs, tours, summer concerts at the gardens.
Cost: Free
Hours: Open Year Round
Address: 777 Lawrence Ave E, North York (Directions)
Centennial Park Conservatory
At the Centennial Park Conservatory, you will find three greenhouses and 12,00 square feet of plants and a tropical house. The 200 different varieties of plants include succulents, aloe, trees, shrubs, palms, and hibiscus.
Cost: Free
Hours: Open Daily, Year Round
Address: 151 Elmcrest Rd, Etobicoke (Directions)
James Gardens
James Gardens is a scenic park on the Humber River that features paths, gardens, and lawn bowling. This relaxed green space was a former estate with a historic gazebo and has a rose garden and streams where you can walk and enjoy some of the best examples of nature.
Cost: Free
Hours: Open Year Round
Address: 99 Edenbridge Dr, Etobicoke (Directions)
Spadina Museum
Visit the heritage gardens of the Spadina Museum. The elegant Edwardian mansion of early 1900s has 6 acres of restored Gardens including a greenhouse built in 1913.
Cost: Admission applies
Hours: Open Year Round
Address: 285 Spadina Road, Toronto (Directions)
Casa Loma
The house on the hill or Casa Loma is a must-visit place not just for the stately historic home, but also for its landscaped 5 acre estate gardens. During summer, walk the gardens admiring garden features, and listen to Toronto Concert Orchestra under the stars during Symphony in the Gardens.
Cost: Casa Loma Admission ~ $20 to $30
Hours: Open Year Round, best visited during late spring to early fall.
Address: 1 Austin Terrace, Toronto (Directions)
Humber Arboretum
Home to nearly 250 acres of public gardens and natural areas located along Humber River, Humber Arboretum features themed gardens with striking displays of annuals and perennials, spring-flowering trees and shrubs including magnolia, dogwood that line meandering trails over bridges, and other landscape structures.
Cost: Free
Hours: Open Year Round.
Address: 205 Humber College Blvd, Etobicoke (Directions)
View this post on Instagram
2. York Region
Aurora Community Arboretum
Enclosing over 100 acres, the Aurora Community Arboretum is fantastic for hiking, birdwatching, exploring nature, and taking photographs. See the beautiful Bur Oak that is almost 200 years old, learn about various trees native to Ontario, enjoy bird watching as you navigate numerous trails of this Arboretum that is also home to a section of East Holland River and a few ponds.
Cost: Free
Hours: Open Year Round
Address: 100+ acres east of Industrial Pkwy N, between St. John's Sideroad and Wellington St. E (Directions)
View this post on Instagram
McMichael's Canadian Collection
By the Humber River Valley is the Sculpture Garden at McMichael's Canadian Collection. Explore around 100 acres of woodland trails that feature a wilderness garden, and a network of outdoor paths and trails along with a series of installations and outdoor sculptures at the Ivan Eyre Sculpture Garden.
Address: 10365 Islington Ave, Kleinburg (Directions)
Cost: Free (outdoors)
Hours: Open year-round
3. Durham Region
Oshawa Valley Botanical Gardens
This network of parks encompasses amazing gardens, pathways, scenery, architectural features, and natural surroundings in the Oshawa Valley. The Peony Garden at the Oshawa Valley Botanical Gardens is one of the largest contemporary peony gardens with over 300 varieties of peonies and hosts the famed Peony festival every June. It also has an amazing daylily collection.
Cost: Free
Hours: Open Year Round
Address: 155 Gladstone Ave, Oshawa (Directions)
Parkwood Estate
This national historic site is over 100 years old, a place preserved for future generations and that is one of Canada's last remaining grand estate. Here, you can marvel at this 15,000-square foot 20th century Beaux-Arts structure and its surrounding gardens that drew inspiration from the English Arts & Crafts gardening movement. Consider joining for 1920's Auto Baron Tour that will provide you with an overview of the entertaining spaces (main floor) of the Estate, as well as an introduction to the McLaughlin Family during the 1920's. The Parkwood Estate National Historic Site regularly holds various garden-themed events.
Cost: Varies; Tours Ticketed.
Hours: Open Year Round.
Address: 270 Simcoe Street North, Oshawa (Directions)
4. Peel Region
Chinguacousy Park
This famed 40-hectare park is home to tropical gardens and a greenhouse, as well as plenty of amenities to complement the natural beauty and colourful plants and flowers around the area. If you are visiting with kids, the park also has a barn and petting zoo.
Cost: Free
Address: 9050 Bramalea Rd, Brampton (Directions)
Hours: Open Year Round
Brueckner Rhododendron Gardens
This 18-acre lakefront botanical garden is a colorful garden space that boasts rhododendrons – a flower that represents spring. The gardens themselves are visually incredible, with blooming flowers and green plants everywhere.
Cost: Free
Hours: Open Year Round, best visited during spring
Address: 660 Lakeshore Rd W, Mississauga (Directions)
Website
The Riverwood Conservancy
Riverwood Conservancy on the shores of the Credit River has numerous trails along woodlands and meadows. It also has two distinct gardens, Chappell House Gardens and MacEwan Terrace Garden. While Chappell House Gardens with its floral beds surround the Riverwood Conservancy's offices, MacEwan Terrace Garden boasts of approximately 7,000 plants, featuring everything from perennials, ornamental grasses to specimen trees.
Cost: Free
Hours: Open Year Round
Address: 4300 Riverwood Park Ln, Mississauga (Directions)
Website
5. Halton Region
Royal Botanical Gardens
Gardening enthusiast? Plan a weekend getaway to Burlington to Canada's largest botanical garden. The extensive natural space of Royal Botanical Gardens spans 1,100 hectares of a nature reserve with an unbelievable 2400 acres of nature sanctuaries, 2300 plant species, and 181,000 individual plants. Walk 27 kilometers of nature trails, check out the slopes of the Niagara Escarpment World Biosphere Reserve, and enjoy the view of the exotic plants. It has an extensive rose garden, historic Rock Garden, an arboretum, 12 themed garden areas, Dan Lawrie International Sculpture Collection and more!
Cost: Free and ticketed sections.
Hours: Open Year Round.
Address: 680 Plains Rd W, Burlington (Directions)
Lucy Maud Montgomery Garden of the Senses
The Lucy Maud Montgomery Garden of the Senses inspired by Canadian author Lucy Maud Montgomery's children's storybooks has it all – a large gazebo, cascading waterfall, picnic areas, planter boxes, garden features for children, and beautiful sensory gardens.
Cost: Free
Hours: Open Year Round
Address: 477 Guelph Street (Hwy 7), Norval (Directions)
Gairloch Gardens
Gairloch Gardens is a peaceful, down-to-earth spot in Oakville for picnics, admiring Lake Ontario, and visiting components like the rose garden and art gallery. It is the ideal place for an early summer getaway from the city, complete with swimming ducks and flowers in full bloom.
Cost: Free
Address: 1306 Lakeshore Rd E, Oakville (Directions)
Hours: Open Year Round.
Dominion Gardens Park
Complementing the Town of Halton Hills' beautiful rural Ontario scenery, you can discover nature here at the Dominion Gardens Park. Enjoy formal gardens, meandering pathways, a dry stone riverbed leading to a naturalized pond, and a walled garden among the foundations of the famous mock-Tudor Dominion Seed House building.
Cost: Free
Address: 118 Guelph St, Georgetown (Directions)
Hours: Open Year Round.
Spencer Smith Park
In the late 80s, Burlington signed a twinning agreement with Itabashi, Japan, and demonstrate their relationship in an exquisite Japanese Garden in Spencer Smith Park. The design was heavily inspired by the Itabashi area and the local landscape.
Cost: Free
Hours: Open Year Round
Address: 1400 Lakeshore Rd, Burlington (Directions)
Website