A list of 50+ free fun events in Toronto and GTA during February including fun family activities, festivals, live music, adult events and more!
Must-Do free events include Black History Month events, Free Fishing weekend, Family Day Weekend Events, Vaughan Winterfest and more!
For free admissions to Toronto attractions and cheaper ways to visit attractions, see Free Things to Do & Cheap Ways to Explore Toronto.
For more free activities and other events taking place this weekend, see Things to Do Weekend in Toronto.
For all free events during Family Day Weekend, see Family Day Weekend in GTA.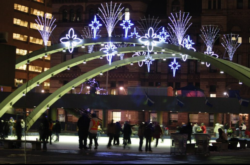 30

Nov
Nathan Phillips Square, Queen Street West, Toronto
November 30, 2019 To March 22, 2020
Free
Programs include Learn to skate from a City instructor DJ Skate Weekends Family games and songs on and off the ice Weekday lunch hour skate with music »
MORE FREE THINGS TO DO THIS FEBRUARY:
1
Black History Month Events
Free programming and eventsfor adults and children will take place at community centres across the city and will include art and poster displays, movie nights, Black history presentations and more. An exhibit entitled Through Your Eyes features an art series highlighting the work of young artists and will be on display at civic centres throughout February.
Various Dates in February @ Various Venues
2
Black History Month Events at Toronto Public Library
As part of Black History month, Toronto Public Library is hosting many events from free concerts to workshops to talks and discussions. Canada's Poet Laureate George Elliott Clarke gets things started with poetry and jazz while author Robyn Maynard discusses policing Black lives. Music aficionados will enjoy performances by Joy Lapps-Lewis, Ubunto Dance and Drum Ensemble along with conversations on hip hop. Literary enthusiasts will want to check out author talks with B. Denham Jolly, William G. Herbert and Imbolo Mbue. Plus, there will be puppet shows, stories and films for the whole family.
Various Dates in February @ Toronto Public Library Branches
3
Richard Bradshaw Amphitheatre Concert Series
Discover exciting artists, both established and emerging, and experience the joy of live performance in an incredible variety of genre . Presented by: Canadian Opera Company
Concerts take place most Tuesdays and Thursdays at noon, and some Wednesdays at noon or 5:30 PM @
Four Seasons Centre for the Performing Arts, 145 Queen St W, Toronto
4
Digital Innovation Hubs
Register for free classes run by Toronto Public Library. You and your child can learn 3D Design, Photoshop, and Web Design, Learn how to design and print a 3D object starting from an existing design, or create your own. Programs also include classes for kids under 10 and teens that build technology skills and creativity – including Maker Clubs, Lego Challenges, Maker Drop Ins and K'Nex Club.
5
Thursday Night Socials
Visit Gibson museum on Thursday nights and take a self-guided tour through the historic house. Relax in the historic kitchen and learn about the Gibson family and the history of North York. Interested in improving your sewing skills? Join the Community Quilt Group from 6 to 8 p.m. where you will explore historic and contemporary quilting techniques in a comfortable, social setting. The last Thursday of each month is Board Games Night – all ages welcome to challenge us to a game!
Thursdays, 5:00 PM to 8:00 PM @ Gibson Museum, Toronto – PWYC