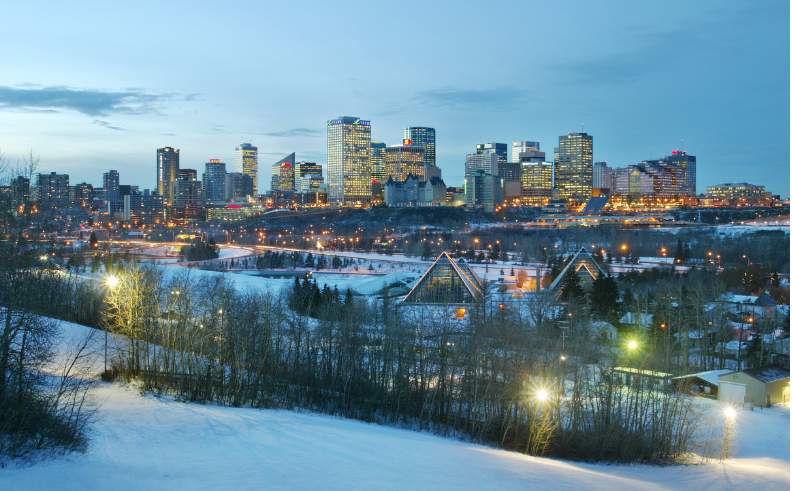 Family Day Long Weekend Activities and Events in & around Edmonton
Friday, February 15 – Monday, February 18, 2019
A list of family day long weekend events in and around Edmonton including free activities, concerts, performing art events, sports, festivals and more!

Check road conditions, before you go – Here
You may like:
I. Family Events & Activities
Silver Skate Festival
The festival transforms Hawrelak Park into a winter wonderland with fun for the entire family. Here, you'll discover breathtaking snow sculpture, winter sports, and horse-drawn sleighs carrying families through the park. Sit in a Cree Winter Camp and cook bannock over an open fire. Compete in the Winter triathlon or speed skating events. Take in live music and theatrical performances with your friends and loved ones.
February 8‑18, 2019
Hawrelak Park, Edmonton
Free
Cirque du Soleil's CRYSTAL
Watch world-class ice skaters and acrobats explore their new frozen playground with speed and fluidity as they challenge the laws of gravity with never-before-seen acrobatics. Cirque du Soleil's CRYSTAL fuses circus arts and the world of ice skating in a stunning new production that will take the audience on a journey into a surreal world where figure skating blends with acrobatics and aerial feats. Details
February 13 – 17, 2019
Rogers Place, 10220 104 Ave NW, Edmonton
$50 – $175
The Music Man Jr.
There's trouble in River City! When smooth-talking con man Harold Hill arrives in a small, tight-knit town in Iowa, he expects to dupe its residents with his elaborate moneymaking scheme: Despite his complete lack of musical literacy, he will convince everyone that he is a brilliant bandleader and recruit all the boys in town to form a band, pocketing the cash for instruments and uniforms. Details
February 15 to 18, 2019
Festival Place, 100 Festival Way, Sherwood Park
$17.00 to $25.00
Labyrinth: PJ Party in the IMAX Theatre
What's better than watching a beloved classic, curled up in your coziest PJ's with family and friends, you ask? Getting to watch on Alberta's largest screen — that's what! Details
Saturday, February 16, 2019 | 09:00 AM
TELUS World of Science – Edmonton
$6.95 to $9.95
Will Stroet
Star of the wildly popular Kids' CBC series Will's Jams, this singing storytelling artist inspires kids to be active, creative and engaged in our world. Details
Saturday, February 16, 2019 | 11:00 AM
Arden Theatre — 5 St. Anne St., St Albert
$15 to $18
SNOMO DAYS
SnoMo Days is an Alberta Winter Festival, dedicated to supporting motorized and non-motorized winter sports, and family orientated winter leisure activities. With the addition of an ATV rally, fishing derby, broom ball, over the line softball, ice breaker, hay rides, food vendors and many children events it truly has become a weekend for the whole family to enjoy. Details
February 16 to 18, 2019
Fireworks on Saturday
Alberta Beach
Free
Celebrate Lunar New Year
Londonderry Mall is hosting its 4th annual Lunar New Year celebration welcoming the Year of the Pig. With lion dance performances, a martial arts demonstration, cultural dances, giveaways and more, this is a must-see event for 2019. Bring your children, family, parents, friends and community to join in the festivities.Details
Saturday, February 16, 2019 | 11:00 AM – 4:00 PM
Londonderry Mall
137 Ave & 66 Street
Free
Community Swing & Skate
Enjoy some cool winter fun! Go ice skating with free skate rentals, or dance along to the music of Dave Babcock and his Jump Orchestra with the dancers of Sugar Swing. Details.
February 16 | 12:00 PM to 04:00 PM
Delton Community Hall, 12325 88th Street, ​Edmonton
FREE
Élise Contre L'extinction Totale
In her science class, Élise learns that the Earth's atmosphere is warming up at an alarming rate, with melting icecaps and 16,306 species currently at risk of going extinct, and that this number is still climbing! She feels guilty, angry, afraid. What can she do to protect the environment from total destruction? With the help of her friend Amal, Élise starts working on an INCREDIBLE science project to save the planet and prevent total extinction.Details
February 16, 2019 | 1:30PM
#126, 8627-Rue Marie-Anne-Gaboury (91 St)
$9 to $15
Matilda The Musical
The story of an extraordinary girl who dares to take a stand and change her destiny. Winner of 50 international awards, including four Tony Awards® and a record-breaking seven Olivier Awards®.Details

February 16 – March 17, 2019

Shoctor Theatre, 9828 101A Avenue, Edmonton

$30 & up
Kids Can Catch
Ever wanted to try ice fishing? Kids Can Catch is a free ice fishing event for all ages. There will be loaner rods and bait to use and lots of experienced anglers and experts to help you along. Also, no fishing licence required! There's never a better opportunity to try ice fishing.Details
Saturday, February 16 | 10 AM – 3 PM
50th Street, Wabamun
Free
Family Fishing Weekends
During Alberta's twice-yearly Family Fishing Weekends, no fishing is licence required. Albertans and visitors are invited to give fishing a try on waterbodies with open fishing seasons (not in national parks). Keep in mind that fishing regulations still apply.Details
February 16, 17 and 18, 2019
Alberta water-bodies where fishing allowed (not in national parks).
Free
Swingin' City Sundays
Jump and jive in City Hall! Enjoy free live music and dance lessons with Sugar Swing Ballroom every Sunday.Details
Sundays, February 2019 | 1:00 PM – 4:00 PM
Edmonton City Hall, 1 Sir Winston Churchill Square
Free
Gibbons Family Day
Pancake breakfast, curling, neon skate, magic show, reptile exhibit, face painting and more! Details
February 16 & 17, 2019
Various venues, Gibbons
Free & Ticketed
Family Fun Fest
Join us for a fun-filled afternoon. Free admission comes with a hotdog and hot cocoa.
Activities include: sleigh ride, a special craft activity, petting zoo, face painting & sparkle tattoos, caricatures, and skating (please bring a helmet).Details
Sunday, February 17 | noon to 4 PM
Evansdale Community Hall/Skate Shack, 9111-150 Ave, Edmonton
Free
Edmonton Garrison Family Day Festival
There will be inflatables and other fun attractions for the whole family.Details
Monday, February 18, 2019 | 11:00 AM to 03:00 PM
Edmonton Garrison Military Fitness Centre, Lancaster Park
Free with donation to food bank
Fire & Ice Festival
Bring your family to the Fire and Ice Festival, hosted by the St. Albert Firefighters Local 2130. Plenty of fun activities for the whole family.Details
Monday, February 18, 2019 | 12 PM to 4 PM
Lacombe Lake Park, St Albert
Free
Family Day at Elk Island National Park
Celebrate Family Day the Canadian way and watch as Elk Island National Park is transformed into a whimsical winter wonderland filled with classic winter experiences for the whole family.Details
Monday, February 18 | 12:00 PM – 4:00 PM
Elk Island National Park – Astotin Lake Recreation Area
Regular Admission
Family Day at the Alberta Legislature
Family Day at the Alberta Legislature promises free family fun around every corner! Explore the Alberta Legislature with the Lost in the Legislature History Hunt..Details
February 18 | 11 AM. to 4 PM
Alberta Legislature and Visitor Centre
9820 107 Street, Edmonton
Free
Laser City Family Day
Fill your Family Day with FUN at Laser City! Laser Tag is on special for just FIVE DOLLARS a game per player! Details
Monday, February 18, 2019 | 11:00 AM to 07:00 PM
Laser City, 5104 67 avenue NW
$5
Family Day Carnival
We have inflatables, a petting zoo, carnival games, music and entertainment, food, and much more.Details
Monday, February 18th | 11:00 AM to 4:00 PM
Evangel Assembly, 4461 50 St NW Edmonton
Free
Qualico Family Day
Enjoy free admission and join us for art activities that celebrate Alberta forests and the families of animals who live there! Make your favourite animal puppets, explore new textures with a paint brush that you make out of fir trees needles, or create a multi-media forest with cardboard, yarns, oil pastels, and fabrics.Details
Monday, February 18, 2019 | 11:00 AM – 5:00 PM
Art Gallery of Alberta, 2 Sir Winston Churchill Square
Free
Elmwood Community Family Day Fun
Join us for sleigh rides, skating, snowshoeing (children and youth ONLY), games, snow painting, comfort food and cocoa! Details
Monday, February 18, 2019 | 11 AM – 3 PM
Elmwood Community League, 16415 83 Ave NW, Edmonton
$10 to $15/family
Family Day Fun!
Bundle up your family, beat the winter blues and "Get Closer" this Family Day! Indoors or outdoors, enjoy "arctic" activities and games throughout the zoo. Cozy up next to a campfire, learn to kick sled and snowshoe, or visit the free photobooth to capture a family memory! Details
Monday February 18, 2019 | 12:00 PM to 4:00 PM
Edmonton Valley Zoo, Edmonton
Regular Admission
Family Day Festival
Our theme for this year is "Animal Kingdom" so we will have six different habitats to explore with special activities in each:
Oceans, Grasslands, Tropical Rainforest, Desert, Polar and Temperate Rainforest Mountains.
Monday, February 18, 2019 | 12 PM – 4 PM
Steele Heights Baptist Church, 5812-149 Avenue, Edmonton
By Donation
Snowman Festival
The Snowman Festival is a family fun celebration of winner, snow and ice. Activities throughout the community for the whole family include snowman building, family skate, shinny hockey, horse sleigh rides, ice skating, games and fire pits, cabane a sucre and much more! Details
February 17 & 18, 2019
Various Venues, Morinville
Free
Family Day Festivities at Reuse Centre
Celebrate Family Day at the Reuse Centre! Join us for free drop-in activities for the whole family, including DIY Boardgames, temporary stencil tattoos from The Balloon Fairies, custom bookmarks with your name from the Edmonton Calligraphic Society, treats, compost tea bags, facility tours and more! Details
Monday, February 18th | 12:00 PM to 3:00 PM
City of Edmonton Reuse Centre, 6835 83 Street Northwest, Edmonton
Free
Family Day at Royal Alberta Museum
Journey through millions of years of history and see thousands of objects, from dinosaurs and mammoths to tiny insects and glowing gems. See how Alberta's Indigenous communities share knowledge and values through generations, and meet the people who shaped our province. Plus, visit thousands of live critters and have fun in our Children's Gallery, complete with an archeological dig pit. Get ready to discover a history of Alberta you won't find anywhere else. Details
Monday, February 18, 2019 | 10:00 AM to 05:00 PM
Royal Alberta Museum, Edmonton
Free
Family Day at Rutherford House
Celebrate Family Day with a visit to the historic home of the first Premier of Alberta, Alexander Cameron Rutherford, and discover the unique personalities in the Rutherford family. Which one of them loved golf? Who did all the driving for Mr. Rutherford? Who played the piano? Who dug that old rag-time jazz? Explore this elegant historic house, play historical games with the costumed interpreters, sample a treat made in the historic kitchen and make an old-fashioned craft.Details
Monday, February 18, 2019 | 12:00 PM to 04:00 PM
Rutherford House, 11153 Saskatchewan Drive
Edmonton
Free
Al Simmons
Juno Award winner Al Simmons is a creative genius whose charm and humanity have won over a legion of fans around the world. His highly original performances of profound wackiness and his off-the-wall inventions take the arts of Music and Comedy to unparalleled heights of hilarity.Details
Monday, February 18, 2019 | 3:00 PM
Shell Theatre, 8700 84 Street, Fort Saskatchewan
$2
Winterfest & Vintage Snowmobile Show
This is a wonderful FREE event hosted by the Fort Saskatchewan Historical Society.
There will ice curling, sledding, snow golf, snow painting, snowman making, maple syrup, vintage snowmobile show and dog sledding.Details
Monday, February 18th | 11:00 AM to 4:00 PM
Fort Heritage Precinct, 100 Avenue, Fort Saskatchewan
Free
Family Day at Snow Valley
Bring the family down to Snow Valley for a day of fun and activities! Details.
February 16 to 18, 2019
Snow Valley, Edmonton
Regular Admission
Everybody Gets to Play Family Day
Activities across Strathcona County Recreation centres. Events include Face painting, Family Stick and Skate, Recreational Swim and more! Snowshoeing, cross country skiing, tasty treats and a campfire and more at Strathcona Wilderness Centre. Details.
Monday, February 18, 2019
Various Locations, Strathcona County
Varies
Ice Castles Edmonton
Marvel at the acre-sized winter wonderland is crafted by hand, using only icicles and water, that resembles frozen waterfalls, glaciers or ice caves brought to Edmonton by Ice Castles. Walk through the Disney-esque ice castle enjoying enjoy the stunning displays.
Open on all days except Tuesdays
Hawrelak Park, 9330 Groat Road, Edmonton
$10.95 to $25
Other Family Activities
1. Muttart Conservatory: Details.
Tranquil Gardens: Relax and unwind after the holidays in an Asian paradise. Surround yourself in the beauty of bonsai, bamboo, citrus trees and more.
You may like:

Family Movies
1. Reel Family Cinema at Metro Cinema: Details — on most Saturday afternoons. Free for kids under 12.. Come early and enjoy themed lobby activities before the films.
2. Cineplex/Landmark
Family Favourites Cineplex: Visit participating Cineplex theatres near you and watch a family favourite film each week for only $2.99. | Saturdays at 11:00 AM.
Landmark Theatres — Every Sunday, kids can get out of the house, a movie ticket and Snack Pack (popcorn, drink, choice of candy treat) @ Edmonton City Centre/St Albert/Spruce Grove location.
3. Telus World of Science
Imax theatre : Shows
BODY WORLDS: ANIMALS INSIDE OUT: From goats to giraffes, elephants to eels and octopuses to ostriches visitors will discover the form and function of animals both exotic and familiar. Animal biology textbooks spring to life in this unforgettable museum learning experience.
CUBA in IMAX: CUBA tells the powerful story of a land preserved in time, yet poised on the cusp of dramatic change. CUBA will transport audiences across breathtaking landscapes, under the ocean surface to iridescent reefs, and into streets throbbing with music and dance in the heart of Havana. Through the eyes of Cuban artists, historians, and scientists, the film provides an intimate look this vivacious island nation.
4. Stem Saturday: How do Sharks Swim?
Use the very latest technology to survey sharks at this month's free STEM Saturday workshop. Participants build a sensorized joystick using cardboard and copper tape and use it to view 3-D rotations of digital shark models. Details
Saturdays @ Microsoft Store, West Edmonton Mall
5. Winter Fun at WEM
Various free fun events for kids daily Fri, Feb 1 to Thu, Feb 28
Free activities: local library
Edmonton Public library: Details and link for registration.
Strathcona County Library – Here
Spruce Grove Public Library – Here
St. Albert Public Library – Here
Drop – in Programs
1. Edmonton Recreation : There is always something you can do as family with the advantage of not having to plan early or register. Check these links below.
St Albert – Drop in Schedule
Strathcona County – Drop in Programs
Ice Rink Pop Up — Thursdays-Sundays, December 20 to March, 2019 @ Boonie Doon Centre
Leduc Kids LEGO Workshop
In this program, our Mentors lead the kids through games and activities using the LEGO we provide.
Thursday, February 14, 2019 | 6:00 pm – 7:30 pm @ The Wagonners Trucking (upstairs boardroom) 7701 39 Street, Leduc
More To Do



II. Live Music & Concerts
Weekday Concerts, EDM & Concert Tours
Upcoming Concert Tours in Edmonton

Cirque de la Symphonie
Always an audience favourite, Cirque de la Symphonie's extraordinary cast of acrobats, contortionists, and aerial flyers unite with orchestral masterpieces to create a spectacular feast for both eyes and ears that will delight the whole family. Details
February 15 to 17, 2019
Winspear centre, 4 Sir Winston Churchill Square NW, Edmonton
$24 to $56
Love Beats
Come out for an epic valentine party that will take you on a music adventure.
We are bringing two of the hottest persian DJs ( DJ Taba, DJ Bahador S) to heat up Union Hall. Details
Saturday, February 16, 2019 |9:30 PM- 2:00 AM
Union Hall – Edmonton
$30-$40
Tunes for Tails
Join us on the Family Day long weekend to enjoy some local music and a silent auction benefiting ZOE's Animal Rescue Society!
Sunday, February 17, 2019 | 7:00 PM – 1:00 AM
On The Rocks, 11740 Jasper Avenue, Edmonton
$15/each
You may like:
Live Music & Concerts in Edmonton
III. Theatre & Performing Arts
You may like:
Live Theatre in Edmonton
Haters Roast The Shady Tour on Thursday, February 14, 2019 | 8:00 PM @ Northern Alberta Jubilee Auditorium
We Are Not Alone
Do you believe in UFOs? Aliens? Government conspiracies? Join Damien Atkins in his return to Edmonton as he puts himself through a quest for truth. This personal story takes us to Roswell, New Mexico, The International UFO Congress, and in search of inter-dimensional portals in the Arizona desert. Through Damien's hilarious and honest portrayal, we are introduced to individuals all around North America who want their stories to be heard and believed. Details
February 12 to March 3, 2019
Roxy on Gateway — 8529 Gateway Blvd, Edmonton
$17 to $30
Made In Italy
Farren Timoteo returns with MADE IN ITALY – a raucous coming of age story about an Italian teenager growing up in Jasper in the 1970s, caught between two worlds and determined to make his mark. Filled with great songs (Italian and Disco!) and delicious comedy, this is a not-to-be-missed tale about a kid with the heart of Rocky Balboa and the moves (and hair) of John Travolta. Details
February 14 to 16, 2019
The Club – Citadel Theatre – 9828 101A Avenue, Edmonton
$30 & up
Take it Off Broadway Burlesque
Fresh off their sold out run at the Capitol Theatre in September, Send in the Girls Burlesque is back with sexy sirens and vivacious vixens. The saucy team behind "With Glowing Hearts: A Canadian Burlesque Revue", "Shakespeare's Sirens: A Burlesque Revue", "Soiled Doves: A Burlesque with Boots On", and "Tudor Queens: A Burlesque" return to grace the Capitol stage with their unique blend of history and satire. Details
February 14 & 16, 2019
Capitol Theatre, 7000 143st Edmonton
$30
The Stand Up Show with Success 5000
Success 5000 is an Edmonton-based duo specializing in musical comedy. They have headlined every stand-up night in Edmonton, toured the country, performed on CBC's The Irrelevant Show, and been featured in comedy festivals such as Vancouver Sketchfest, Toronto Sketchfest, Philly Sketchfest, Seattle Sketchfest and Improvaganza. Details
Friday, February 15 2019 | 09:00 PM – 10:00PM
The Grindstone Comedy Theatre, 10019 81ST AVE, Edmonton
$10-$12
Wen Wei Dance Dialogue
Dialogue is a piece for six men that explores themes of contact, communication and language – both spoken and unspoken. Underlying our learned ability to speak language, there is a fundamental urge to communicate. Drawing on Wen Wei Wang's personal experience as a non-English speaking immigrant to Canada, Dialogue explores the basic desire to be understood, and the loneliness when one does not achieve those rare honest connections with others. Details
February 15 & 16 | 8:00PM
MacEwan University 11110 104 Ave
Edmonton
$25 to $40
WildFire Festival
The WildFire Festival is an improv festival for students from all across Alberta (and sometimes even the Territories). The 16-day festival is created by the marriage of three improv tournaments: The Canadian Improv Games, Rapid Fire Theatre's own TheatreSports tournament: the Nosebowl and the WildFire Junior. Details
February 5-24, 2019
The Citadel Theatre – Ziedler Hall, 9828 101A Ave NW, Edmonton
$8 to $10
Leave of Absence
A teenage girl suspected of being gay is bullied by her classmates. This play explores and challenges the fall out of the response to the same sex marriage rulings in Canada and how it affects youth and the programs and supports available to them. It also asks the greater community about the ethics of being absent and our role in the LGBTQ+ community. Are we turning a blind eye? What does love and acceptance look like? Details
February 6 to 16, 2019
Walterdale Theatre
10322 83 Avenue, Edmonton
$15 to $18
The Chinook Series
Chinook Series is Edmonton's international curated performance festival showcasing some of the most acclaimed contemporary art taking place across Alberta, the nation, and worldwide. By bringing together dynamic, daring, and cutting edge artists, Chinook offers the best in theatre, dance, and performance art! Details
February 7 – 17, 2019
Various Venues, Edmonton
$22 & up
All For Love
Renowned Canadian playwright and dramaturg, Peter Hinton, directs this iconic Restoration tragedy that depicts the doomed love affair of Antony and Cleopatra, and the struggle between passion and duty. An epic tale of love and honour, All for Love features heroic ideals, betrayal, and the opulence of court and power. Details
February 7 – 16, 2019
Timms Centre for the Arts, 87 Avenue 112 St NW, Edmonton
$5 to $25
III. Sports & Related Events
You may like:
Learn Skiing and Snowboarding for $25
Capital Classic Pond Hockey Tournament
40 teams will be participating in the Canadian Progress Club's one day event in support of Uncles & Aunts at Large and Adaptabilities. Details
Saturday, February 17, 2019 | 9:00 AM to 05:00 PM
Lake Summerside 1720 88 St. SW, Edmonton
Free to watch
Edmonton Oil Kings
vs. Medicine Hat Tigers on Monday, February 18, 2019 | 2:00 PM
Rogers Place , Edmonton
Full Moon Birkie Series
Cross country ski under the light of the full moon! Details
Sunday, February 17, 2019 | 6:00 – 10:00 PM
Waskahegan Staging Area, Cooking Lake-Blackfoot Provincial Recreation Area
$10
Family Day Classic
Hockey Tournament. The Stollery Family Day Classic is completely focused on children, families, active living and good health. The mission of the tournament is create an event that is about giving back and promoting awareness and support for the Stollery Children's hospital among our youth and community at large. It is also in support of Hockey Edmonton and future player developmental initiatives. Details
February 15 to 18, 2019
Terwillegar Community Rec Centre, 2051 Leger Road NW, Edmonton
FREE
IV. Exhibitions, Festivals & Other Events
More To Do
Alberta Vacation Ideas & Itineraries

You may like:
Winefest Edmonton
The World of Wine Awaits! Winefest invites you to indulge among hundreds of wines in all styles and flavours! One ticket includes an all-inclusive sampling of wines, hors d'oeuvres and a take-home wine glass. Guests will enjoy a variety of red, white, rosé, port, sparkling, and dessert wines from the world's most celebrated wine regions, and a selection of sweet and savoury decadent bites. Details
February 15 & 16, 2019
Edmonton Convention Centre, Edmonton
$82-$92
International Festival of Winter Cinema
Edmonton's International Festival of Winter Cinema (IFWC) recognizes and celebrates local and international cinema with winter, mountain, and polar themes of any style or genre, with a focus on films featuring indigenous people, immigrants, winter life, or address climate change.
February 8,9, 15 – 17 2019
William Hawrelak Park, 9930 Groat Rd NW, Edmonton
Free
DeadbyCon Edmonton Horror Convention
Edmonton's first horror convention . Featuring 13,000 Sq Feet of attractions including industry guests, vendors, cosplay contest, Q&A panels, Short film viewings and so much more.
February 16 & 17, 2019
Radisson Hotel and Convention Centre
4520 76 Avenue NW, Edmonton
$15-$40
Adult LEGO Night with AIMBOT
Join AIMBOT for a fun night out at our Adult Only Lego Night sponsored by the Knottwood Community League.Take part in a team build and use your creativity while competing against other teams to see who can build the most creative Lego structure. The most creative wins a prize! Come alone or as a team…we will find someone for you to work with. There will be free beverages and snacks.
Saturday, February 16, 2019 | 7:00 PM – 9:00 PM
Knottwood Community Hall 445 Knottwood Road West, NW Edmonton
$25.00 – $30.00
Poundmakers Annual Sweetheart Round Dance
Traditional Indigenous Round Dance held at Poundmakers Lodge Treatment Centers.
Saturday February 16th. | Feast: 5:30PM
Dance 7:00pm-11:00pm
Poundmakers Lodge Treatment Centre.
25108 Poundmakers Road
Sturgeon County
Free
Potluck and Film Night
Join us for our monthly potluck followed by the documentary, The Sacred Science.
Saturday, February 16, 2019 | 05:45 PM – 9:00 PM
Unity of Edmonton, 11715 108 Ave NW, Edmonton
$5
Laser Shows in the Zeidler Dome
We are turning the music up to 11 this year and showing off spectacular displays in the new Zeidler Dome. Experience top hits from artists such as Michael Jackson, Pink Floyd, & the best of the 90s.
Friday & Saturdays January 11 to February 23, 2019 | 7:00 PM
Telus World of Science, 11211 142 Street Edmonton
$9.50-$13.95
Snowshoe & Stargaze
With a park interpreter as your guide, navigate the sky of the Beaver Hills Dark Sky Preserve; without the glow of city lights around you'll see more than you knew existed. After learning about the constellations above, strap your snowshoes back on for the short hike back to the Astotin Lake Recreation Area.
Saturday February 16, 23, 2019 | 7 PM to 09:00 PM
Astotin Lake, Elk Island National Park
$29.80 per person with a valid park pass
EXHIBITIONS & Other Events
Home Economics: 150 Years of Canadian Hooked Rugs
Home Economics: 150 Years of Canadian Hooked Rugs explores the unique stories and histories that have informed hooked rugs in Canada, the highly recognizable forms of folk art with roots in 19th-century North America. Featuring hooked rugs from the Museum's rich archive of international material culture, the exhibition represents generations of artisanal entrepreneurship, women's domestic and collective work, as well as rural development in Canada.
February 7 to April 23, 2019 @ Legislative Assembly of Alberta
Guy Roy "Why Not?"
Painting primarily on site in the Amiante and Charlevoix regions of Quebec, Guy Roy describes himself as a 'colorist painter.' Light yet vibrant colours, deep contrast, and grand canvases characterize his landscape paintings. Details
February 9 – 21, 2019 @ West End Gallery, Edmonton
Those Who Wander
What do you think about when you enter a hospital? Are you here as a visitor, a health care provider, or as a patient?
January 5 to February 24, 2019 @ McMullen Gallery, 8440-112 St